ABOUT US
Catalyst is an initiative funded by United States Agency for International Development (USAID) under the mSTAR Program to increase adoption of digital payments in India, using a targeted ecosystem approach.
Our vision is to realize an inclusive digital economy that meets the needs of all Indians.
OUR ECOSYSTEM APPROACH TO DRIVE DIGITAL PENETRATION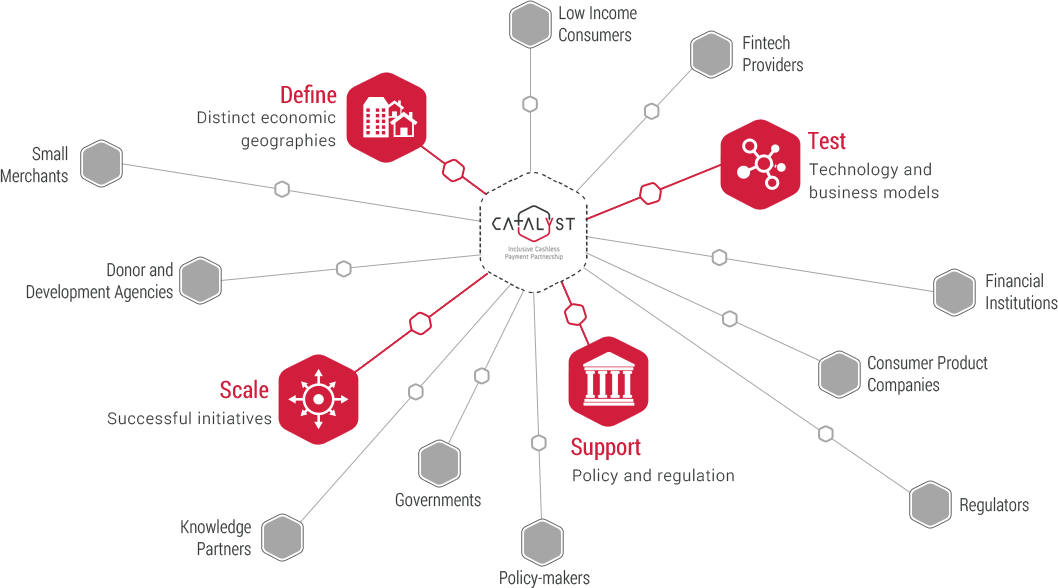 EVOLUTION OF CATALYST
In November 2015, the Government of India (GoI) and USAID formalize a partnership to promote interoperable digital payment solutions in India, with the objective to expand merchant acceptance and build consumer confidence towards greater adoption and use of such solutions.
PARTNERSHIPS FOR ACTION
The Catalyst Inclusive Cashless Payment Partnership expands to 200+ organizations including major banks and FIs, telcos, fintech innovators, business correspondents, MFIs, local governments, policymakers, regulators, think tanks & knowledge partners, trade associations, donor and development agencies, and domain experts.
Regulatory Sandbox
Building further on its support to Watal Committee, Catalyst engages with its partner ecosystem to distill a set of case studies that address specific regulatory impediments that are holding back business model innovation in mass fintech applications. Report forthcoming.